Checking your writing in a foreign language for mistakes can be challenging, but employing effective strategies can significantly improve the accuracy and clarity of your work. Here are some of the best strategies to check your writing in a foreign language for mistakes:
Before test day:
Take a Break: After completing your writing, take a short break before starting the proofreading process. This allows you to approach your work with fresh eyes and a clearer mindset.

Use Language-Specific Tools, such as Grammarly: Leverage language-specific tools and resources such as spell checkers, grammar checkers, and language learning apps. These tools can highlight potential mistakes and offer suggestions for corrections. However, remember that they may not catch all errors, so manual review is still crucial.
Focus on Specific Error Types: When proofreading, concentrate on specific error types that you tend to make frequently (a tool like Grammarly can highlight these even in its free version). For example, if you struggle with verb tenses, check the accuracy and consistency of your verb usage throughout the text. By targeting specific areas of weakness, you can address recurring mistakes effectively.

Keep a Personal Error Log: Maintain a personal error log where you record the mistakes you frequently make. Reviewing this log regularly helps raise your awareness of specific areas that require improvement. It allows you to focus on those areas during the writing and proofreading process, leading to gradual progress and fewer errors over time.

Verify Vocabulary and Word Choice: Do not use words you are not confident about. Check the accuracy of the vocabulary you have used. Ensure that the words you selected convey the intended meaning and are appropriate for the context. Consult dictionaries or language resources to confirm the correct usage and meaning of specific words.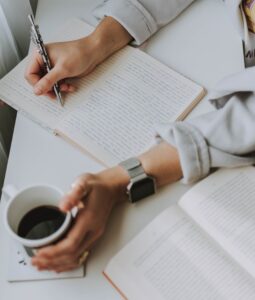 On test-day:
Do IELTS Writing Task 2, then Writing Task 1, then reread Writing Task 2. Writing Task 2 is longer than Task 1, and worth double the score of the Writing Section of the IELTS. Even though you cannot write it, walk away and look at it with fresh eyes, going back to it after Writing Task 1 gives you at least a little break before review.

Reread your Writing Task 2 multiple times, focussing each time on a specific error you frequently make. If you look for all mistakes at once, chances are you'll miss most of them.

Take advantage of the computer-based test rather than the paper version. The computer-based writing test gives you an automatic word count. Not having to count words to ensure you wrote enough gives you more time for review.
In conclusion, preparing for an English language test can be a daunting task, particularly when it comes to identifying and rectifying errors in your writing. However, with the right guidance and support, you can significantly enhance your language proficiency and boost your chances of success.
Remember, practice makes perfect, and seeking feedback is an invaluable part of the learning process. If you feel overwhelmed or would like personalised assistance in reviewing your writing, I am here to help. As a language expert, I offer comprehensive and tailored feedback to address your specific needs, whether you are preparing for an English language test or simply striving to improve your overall writing skills.
Feel free to contact me for a professional review of your writings. Together, we can identify areas for improvement, clarify any doubts you may have, and provide you with the guidance necessary to excel in your English language journey.
Happy writing!